New Resident Webinar- On Demand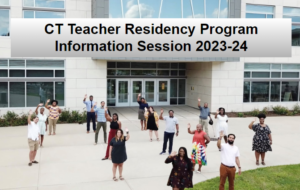 This is an on-demand informational video for those interested in applying to and learning more about the CT Teacher Residency Program. In this session, we will give an overview of the program, requirements, coursework and residency model that leads to CT state teacher certification. Once you register, an email will be sent with the link to the informational video.
Register Here: https://airtable.com/shrc2boVUHECWldF3
Thank you for your interest!!